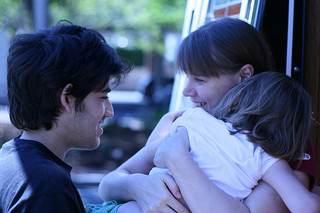 We used to have a fight about how much the internet would grieve if he died. I was right, but the last word you get in as the still living is a hollow thing, trailing off, as it does, into oblivion. I love Aaron. I loved Aaron. There are no words to can contain love, to cloth it in words is to kill it, to mummify it and hope that somewhere in the heart of a reader, they have the strength and the magic to resurrect it. I can only say I love him. That I will always love him, and that I known for years I would. Aaron was a boy, not big, who cast a shadow across the world. But for me, he will always be that person who made me love him. He was so frustrating, and we fought. But we fought like what we were: two difficult people who couldn't escape loving each other.
On the last day I saw him, he grabbed me in the rain while my car was blocking the road and held me and said "I love you." I don't know if I said it back. Not that time. I had always told him. Sometimes I told him when he didn't have it in him to say. I'd say "I love you, and you love me, too" and he would just hold me.
When he was 20, he carried me through my divorce. We promised each other a year. I apologized so many times: that I was better than what he was getting, that he got me destroyed. Still, what a year. Later, I tried to take care of him while he was being destroyed, from inside and out. I struggled so hard, but not as hard as he did. I told him, time and again, that this was his 20s. It would be better in his 30s. Just wait. Please, just hold on.
He read to me and Ada compulsively; he read me a whole David Foster Wallace book. He read Robert Caro to me, countless articles, blog posts, snippets of books. Sometimes, he would call, just read, and hang up. He loved the Very Persistent Gappers of Frip, and the three of us read it together many times. We loved George Saunders. We loved so many things together.
He loved my daughter so much it filled the room like a mist. He was transported playing with her, and she bored right into his heart. In his darkest moments, when I couldn't reach him, Ada could still touch him, even if only for a moment. And when he was in the light, my god. I couldn't keep up with either of them. I would hang back and watch them spring and play and laugh, and be so grateful for them both.
More than anything, together we loved the world, with the kind of love that grips and tears. We were fearsome creatures, chained to our caring, chained to other people.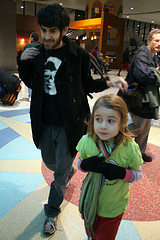 We were destroyed by the investigation, and by enduring so much together in the five years of the difficult love affair of difficult people. In the end he told me he needed to get away from me. I let him go, and waited for the day he'd come back. I knew that one day we'd have a day to be together again, though probably not as lovers. Together, as something that doesn't have a word. He went on to another relationship, and I know he touched her like he did me, because that's how he touched people.
A part of me died with him. A part will always be with him.
Stop all the clocks, cut off the telephone,
Prevent the dog from barking with a juicy bone,
Silence the pianos and with muffled drum
Bring out the coffin, let the mourners come.
Let aeroplanes circle moaning overhead
Scribbling on the sky the message He Is Dead,
Put crepe bows round the white necks of the public doves,
Let the traffic policemen wear black cotton gloves.
He was my North, my South, my East and West,
My working week and my Sunday rest,
My noon, my midnight, my talk, my song;
I thought that love would last for ever: I was wrong.
The stars are not wanted now: put out every one;
Pack up the moon and dismantle the sun;
Pour away the ocean and sweep up the wood.
For nothing now can ever come to any good.
–W. H. Auden